Synapse Medicine at HLTH 2022
Synapse Medicine is proud to be a sponsor at HLTH 2022, where the future of health happens! You can sign up here to reserve a spot for our special HLTH Q&A: The Future of EHR Integration, with guest, Brendan Keeler, Head of Product, Flexpa. Or schedule a demo of our Medication Success technology at Booth 4651 ☕️!
Breakfast Demo
Monday, Nov. 14th, 8am—Come by our booth for coffee & croissants, and discover how easy it is to integrate drug data into health tech products with our Prescription Assistance API & components.
Q&A with Brendan Keeler
Tuesday, Nov. 15th, 12:30pm—The Future of EHR Integration Join Brendan Keeler, Head of Product, Flexpa with Clement Goehrs, Co-Founder and CEO, Synapse Medicine for this Fireside Chat. (Booth 4651 for Champagne & Lite Bites)
Join Us
The Venetian Expo, Las Vegas Booth 4561
Dates
Sunday, November 13 to Wednesday, November 16
Healthcare's #1 Innovation Event
Celebrating it's 5th year anniversary, HLTH 2022 is the health tech event everyone is talking about. Over 8,500 technology executives, investors and thought leaders will be coming together for 4 days of nonstop content focused on the latest innovations that are driving the future of healthcare.
Synapse Medicine
Our intelligent solutions help patients and their care teams optimize drug regimens along the entire care journey, from prescribing through adherence, for a safer, more effective and efficient path to successful medication therapy.
Prescription Assistance
At HLTH 2022, come discover our suite of pre-built plug 'n play prescription assistance APIs and components that quickly and easily connect your prescribers to the drug data and medication decision support they need for safer prescribing.
Medication Success
We are dedicated to creating technology that helps patients and their care teams transform today's medication regimens into tomorrow's medication success.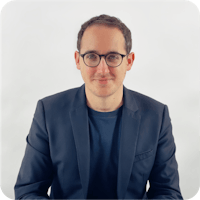 Meet Clement Goehrs, MD, Co-Founder & CEO together with Franck Tricot, Senior VP, Strategic Partnerships at HLTH 2022
Dr. Clement Goehrs, Co-Founder & CEO of Synapse Medicine with Franck Tricot, Senior VP Strategic Partnerships, will be present at HLTH 2022. They will be available to discuss Synapse Medicine's mission and our medication management solutions that accompany healthcare providers and their patients as they navigate the drug therapy pathway to achieve medication success.
Connect with Franck Tricot on LinkedIn