Telehealth has simplified and smoothed over healthcare pathways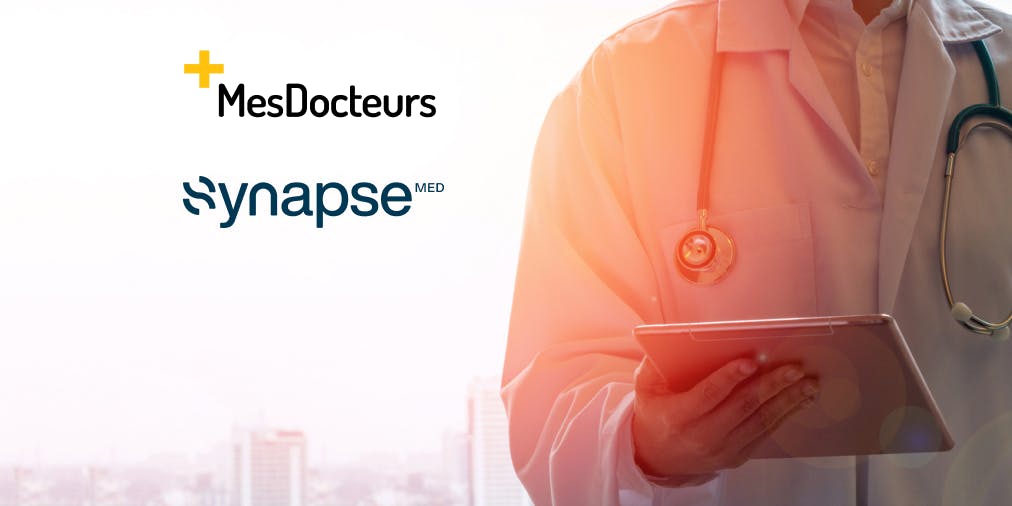 In this interview, Marie-Laure Saillard, CEO of MesDocteurs, and Dr. Clément Goehrs, co-founder and CEO of Synapse Medicine, reflect back on how telemedicine evolved in 2020.
Widespread use of telemedicine has expanded greatly due to the covid-19 pandemic. How would you assess 2020?
Dr. Clément Goehrs :
The COVID-19 crisis has effectively caused the use of telemedicine to skyrocket in just a few short months. Telemedicine platforms only had a few weeks to learn how to deal with a massive influx of remote consultations. The statistics from the French National Health Insurance Fund (CNAM) illustrate this unprecedented increase. In 2019, they registered only 75,000 remote appointments, while that number went up to 1.9 million in 2020. Last year, telemedicine was yet again able to prove its worth. It gave everyone the opportunity to benefit from easy access to healthcare, without any time constraints or limitations related to geographic location.
Marie-Laure Saillard : 
All crises boost innovation and the use of innovative products, especially when these innovations remove obstacles. The one that we are currently living through has pushed all aspects of telemedicine (remote consultations, remote monitoring, and remote healthcare) forward. We progressed more in one year than we had in 10 years. This leap forward has benefited all healthcare professionals, not just doctors but all other clinical personnel, as well as patients, of course, and telemedicine operators, whose solutions had been ready and waiting for a while. Everyone has had their own experience curve with this large-scale deployment, which allowed us to concretely measure the value it added to access to healthcare and to medical practices. Finally, the covid-19 pandemic also sped up the transformation of our healthcare system, which was necessary, by promoting cooperation between different players (healthcare authorities, healthcare professionals, start-ups, and manufacturers) in a landscape that had been very closed off until recently.
France had to deal with the second wave of the epidemic and a second lockdown at the end of the year. Were you able to measure the impact they had?
Dr. Clément Goehrs :
During the pandemic, the French population widely adopted telemedicine, and wanted even more digital healthcare solutions, for medicines, for example. We developed our covid19-medicaments.com platform in March 2020, which gave us the ability to measure this. During the second wave of the epidemic, the use of covid19-medicaments.com resurged and visits peaked in November during the second lockdown.
Synapse Medicine developed covid19-medicaments.com with institutional players such as the French Society of Pharmacology and Therapeutics, the Pharmacology Department at Bordeaux University Hospital, and the French Network of Regional Pharmacovigilance Centers. Anyone can go to the site and check whether a given medicine might worsen COVID-19 symptoms and it has helped over one million people. I think that in 2020, beyond the huge surge in telemedicine use, everyone everywhere became more aware of how important it is to use medicines safely. Marie-Laure Saillard : 
At MesDocteurs, we were able to predict the second wave as early as September 15. The number of COVID-19-related remote consultations had been increasing significantly since the summer lull, which had been well under November numbers. We can't forget that the second lockdown was vastly different in terms of healthcare, since private practice healthcare was more widely accessible and emergency rooms were not as overrun. However, for the more than 11% of the population living in medical deserts, rapid access to a doctor was and still is a major problem. That's how we measure all the contributions of telehealth consultations financed by third parties (health insurance, companies, etc.) which complement care pathways. One out of three French people now have access to MesDocteurs' remote consultation service, available 24/7, no appointment needed.
What legal measures are needed to promote the development of telemedicine in France?
Dr. Clément Goehrs :
For telemedicine to continue innovating and to give it a bigger role in care pathways in France, it seems like we have to continue what we have started, with campaigns that promote the reimbursement of remote consultations. That will, in particular, provide everyone with easy access to healthcare and help make up for the lack of practitioners in some areas. So the challenge is to make telemedicine a lasting part of the French healthcare system.
Marie-Laure Saillard : 
To make telemedicine a part of our care pathways, we must get it out of its current regulatory no man's land. The French healthcare authorities put special measures in place last year. They will soon come to an end. The highly restrictive framework of the amendments made to the convention médicale [1]  before the pandemic prevent it from coming fully into effect for the benefit of our healthcare system. This is a key point in contractual negotiations, which were stopped at the end of the year and will pick up again this spring.  Access to first-line care in underpopulated areas is not stable and very difficult to understand. And to look at another example, we launched remote nursing care a year ago, but we're still waiting for the official medical procedure classification codes to do more than just remote monitoring for COVID-positive patients. Telemedicine should be more than just medical care that helps manage a health crisis. It can truly complement in-person medical care and can be a factor of progress for everyone. We now need to work together in a spirit of mutual confidence to identify the care pathways to which it can provide the greatest added value in the future.
After COVID-19, do you think that telemedicine will be something that French people continue to use?
Dr. Clément Goehrs :
Telemedicine provides a concrete answer to the healthcare challenges our country is facing, especially in terms of medical deserts. To integrate it into our system in the long-term, I believe we have to create a three-part virtuous circle. The first part is to continue to educate the general public about the medical services available via telemedicine, and about transparency and how it guarantees security. The second consists of promoting a clear regulatory framework that sets out how these medical procedures are reimbursed. Finally, the third and most important, I believe, aspect involves providing healthcare professionals with support, to teach them how to use the tools that help them provide personalized medical care based on their specialties.
These three points will make it possible for the French population to use telemedicine more and are fully in line with the Ma santé 2022 (2022 My health) national reform.
Marie-Laure Saillard : 
This health crisis has allowed the use of telemedicine to really take off. Using it has made people less fearful. Beyond the regulatory context that we just mentioned, we now have to support patients and healthcare professionals. We have to educate them well and reassure them, to make sure they keep using the services. Telehealth has simplified and smoothed over healthcare pathways, which are often complicated for patients to deal with. It truly does provide healthcare professionals with levers for coordination and efficiency. The interoperability work that the public authorities have undertaken as part of #MaSanté2022 will also contribute greatly to this transformation. Too often, we talk about the technological side of telemedicine, but I think it's more of a societal and cultural shift. It is revolutionizing medical practice and the relationships between caregivers and care receivers, and we all have to commit to it.
More information on MesDocteurs.com
Follow Marie-Laure Saillard on Linkedin here
 [1]The convention médicale is an agreement governing relations between French physicians and the National Health Insurance Fund.